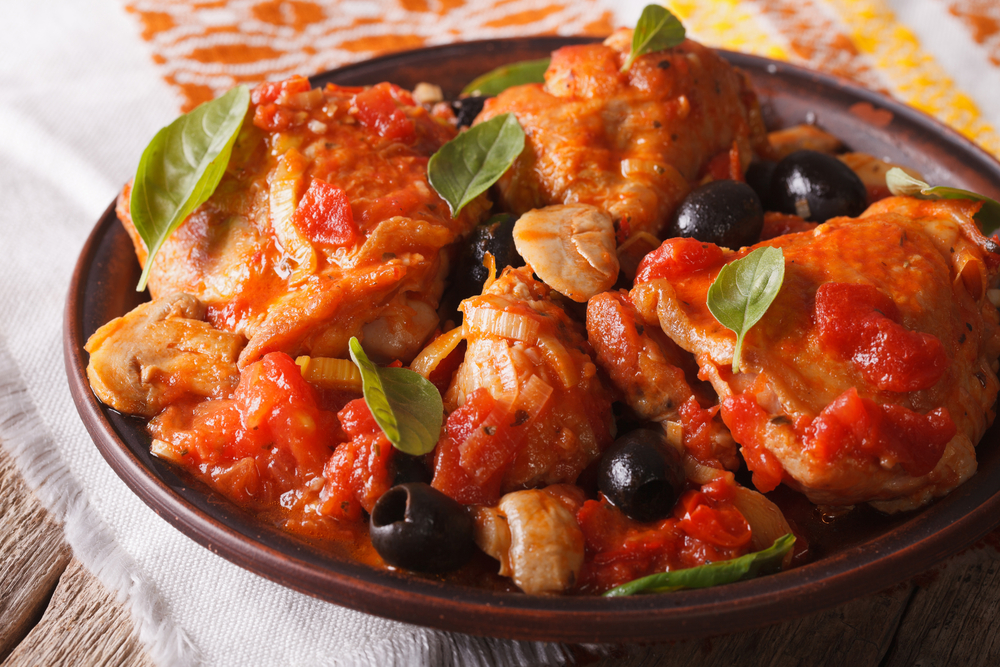 Serves: 4
Ingredients:
4 skinless chicken breasts
1 can tomato puree
1 small white onion – finely chopped
200g sliced fresh mushrooms
1 thinly sliced red bell pepper
1 thinly sliced yellow bell pepper
Fresh rosemary – finely chopped
1 garlic clove – minced
½ glass white wine
1 tablespoon white wine vinegar
1 tablespoon olive oil
Salt and fresh ground pepper to taste
Few basil leaves and black olives for garnish
Instructions:
Sprinkle chicken breasts with a little salt and pepper. Add chicken to a large non-stick pan, cook for about 4 to 5 minutes until they brown, turning over once. Remove the chicken from the pan and place in a plate.
Using the same large pan, heat 1 tablespoon of olive oil. Add garlic, softened mushrooms, bell peppers and onions. Saute until lightly browned and soft.
Pour in white wine and cook for about 2 minutes until wine is almost evaporated.
Add browned chicken to pan and add the tomato sauce, rosemary and freshly ground pepper. Bring to a boil.
Reduce heat and cook uncovered for around 15 minutes until chicken is no longer pink. Garnish with basil leaves and black olives.