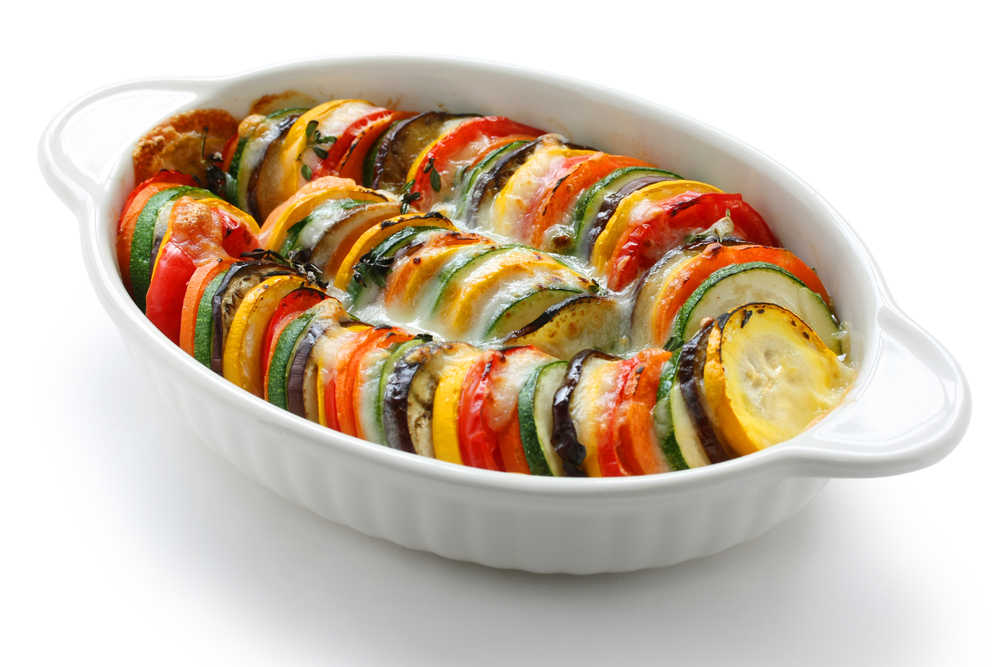 Serves 4-6
Ingredients:
2 medium onions, thinly sliced
3 medium garlic cloves, minced
5 tablespoons extra virgin olive oil
2 ½ teaspoons salt
¼ cup fresh basil leaves, torn
2 teaspoons fresh thyme leaves, chopped
6 medium tomatoes, sliced into rounds
2 medium zucchini, sliced into rounds
2 yellow peppers, sliced into rounds
½ cup Parmeggiano, finely grated
Instructions:
Preheat the oven to 190°C and lightly grease a medium sized baking dish with oil.
In a large frying pan, heat olive oil over low-medium heat. Add the onions, garlic and 1 teaspoon of salt. Cook them, stirring occasionally for 5 mins until softened. Stir in the basil and thyme and spread on the bottom of the prepared baking dish.
Toss the vegetables with the rest of the olive oil, salt and pepper. Alternate the sliced vegetables in compact, upright rows on top of the onion mixture.
Cover the dish with foil and bake until the vegetables are tender, about 30 minutes. Uncover the dish and sprinkle Parmesan cheese on top. Continue baking until the cheese browns, for around 20 minutes or so.
Serve the dish hot or at room temperature.