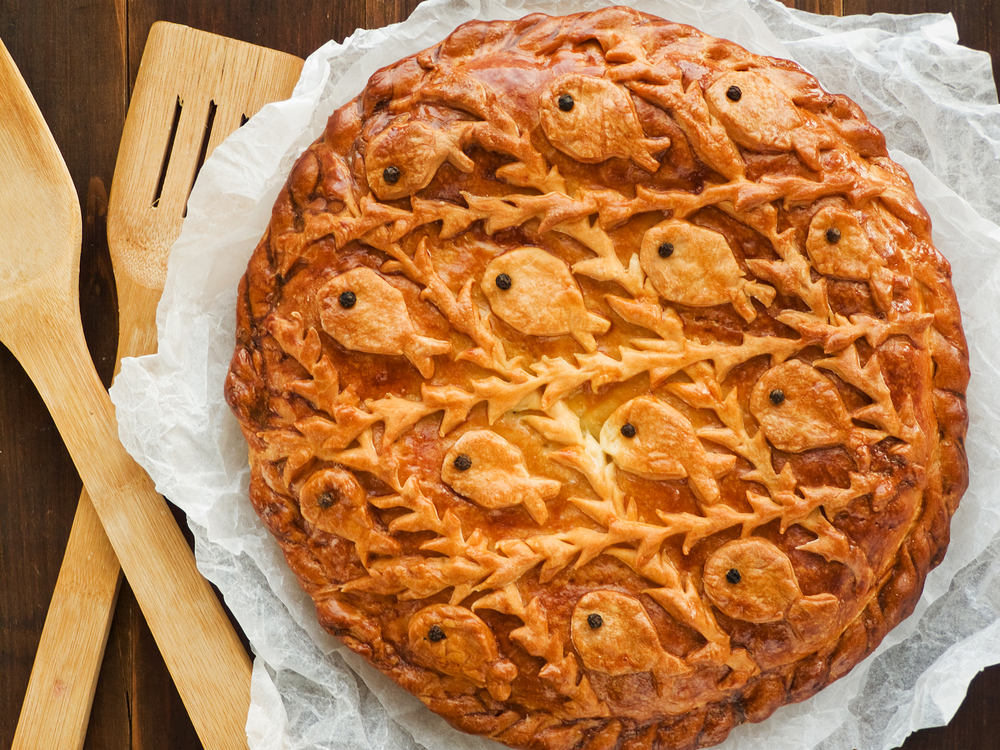 Serves 6
Ingredients:
400g puff pastry
800g Lampuki fillets
1 Handful of cooked peas
800g fresh spinach, cleaned and cooked or 350g frozen spinach cooked and drained
150g carrots, peeled and boiled
12 black olives, halved
1 medium-sized cauliflower
2 tablespoons of capers
2 tomatoes, peeled and chopped
2 tablespoons tomato puree (kunserva)
2 onions, sliced
2 cloves garlic
250ml cup fish stock
1 tablespoon parsley
1 tablespoon basil
1 tablespoon mint
Olive oil
Salt and pepper
Instructions:
Cut the fish into 3-inch portions, discarding the head and tail. Heat the oil and shallow fry the portions until cooked through. Allow the fish to cool, remove the skin and carefully cut the portions into bite-sized pieces. Set aside.
In a large wide saucepan, fry the onions and garlic. Add the tomatoes, cook for 1 minute and then add the cauliflower, carrots, spinach and peas. Add half a cup of water and simmer until the vegetables are tender.
Add the olives, herbs, tomato puree and capers to the mix, season and allow to simmer for another 5 mins. Remove from heat and allow to cool.
Roll out the pastry and line a pie dish with it, leaving a third of the pastry untouched, for the top of the pie.
Take half of the vegetable mixture and spread it out on the pastry base, add fried lampuki pieces evenly over the vegetables and finish it by adding the second half of the vegetable mixture over the fish.
Roll out remaining pastry and place over the top, ensuring that all the edges are sealed properly.
Bake in a pre-heated oven of 200°C for 15 minutes then lower the heat to 180°C. Cook until the pastry is golden brown (approximately 25 minutes). Allow the pie to cool for 10 minutes and make sure you serve it warm!